Exhibition 6 Nov – 18 Dec 2021 (prolongued to 29 January 2022)
REBIRTH is the inaugural exhibition of GALLERY BRULHART, a space dedicated to Contemporary Art by African Women, coinciding with the week-end GENEVE.ART on 6-7 November 2021. We invite you to join us for the opening of the show on Saturday 6 November, from 11h00 to 18h00.
The group exhibition assembles work by seven African women artists from South Africa, Zimbabwe, Kenya and Ethiopia.
Through their artistic creation, these women confront their personal traumas, as well as racist and sexist stereotypes that are forced upon them in the media and by consumerism. The resulting artwork is as diverse as the artists themselves: we can see deep reflection, irony, resistance with the love of life never far. The journey of these women artists resonates with our own life experiences, and shows us the similarities of women's struggles in different parts of the world.
Nkuly Sibeko
(b.1991, South Africa) is the daughter of the late Peter Sibeko, famous painter of the Soweto School of Art. Having inherited her father's artistic talent, Nkuly nevertheless had to fight against gender stereotypes and assert her own intrinsic style of painting. She creates colorful phantasy figures on canvas, and uses magazine clippings to evoke her dreams of a better world for the young generation.
Philiswa Lila's
(b.1988, South Africa) paintings are from her debut solo exhibition "Skin, Bone, Fire: The first Album".Through this exhibition, Philiswa explores the physical, mental and spiritual spaces held close by her personal experiences. She portrays the pages of an empty family photo album, thereby attending to recollection, interpreting the symbolic narrative of remembrance, and piecing together memories.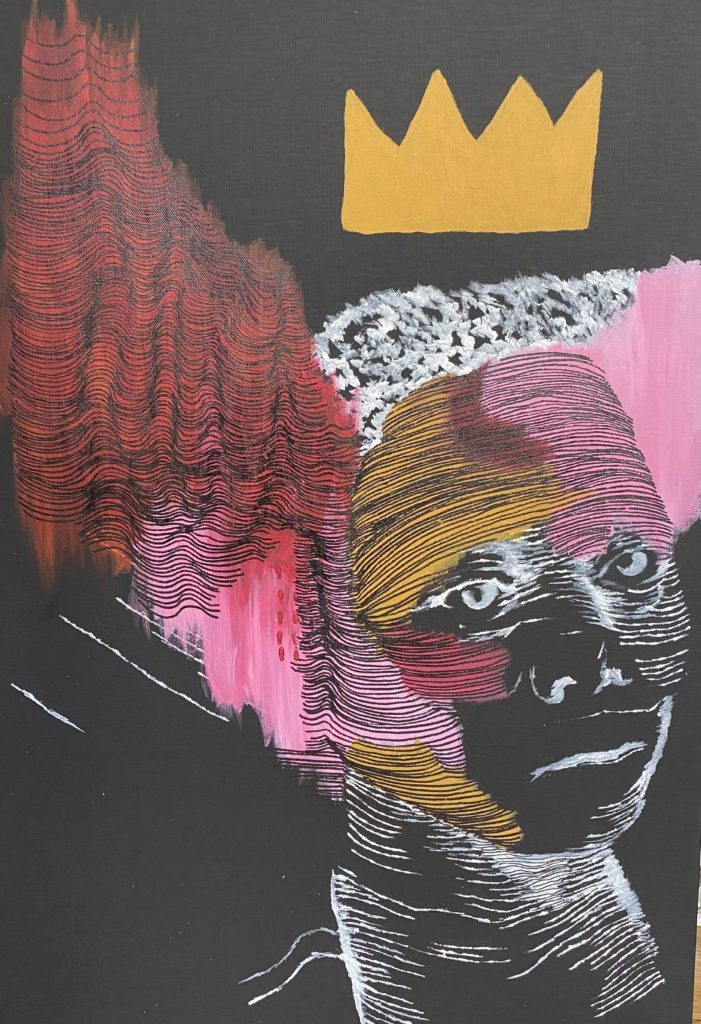 Boitumelo Diseko
(b. 1996, South Africa) uses contour lines to form images that connect the human form to the terrain they inhabit. She is seized by environmental psychology, i.e. the interplay between human beings and their environment, and how it imprints itself on history and art. She draws inspiration from faith, history, societal events, as well as putting herself in someone else's shoes.
Mavis Tauzeni
(b. 1985, Zimbabwe), uses various media such as stitching, printing, and splashing to symbolize women's daily life. Mavis is trying to express a society obsessed with perfection, and explore the relationship woman has with her body and the challenges it presents to her ever- transforming identity. In this way she translates structure and form to thought and the physical and mental emotions to reality, which one tends to evade.
Kidist Hailu Degaffe
(b. 1969, Ethiopia/ Switzerland) explores her existence through self-portraits, reflecting on her status as a woman, an artist, and a migrant. Kidist's artwork reminds us of the persisting inequalities in the world, where the majority of people lack the fundamental opportunities to live in dignity. She also points out that many human rights violations such as violence against women are universal.
Kidist's "endurance" symbolism implies that all human beings possess the intrinsic power of resilience, however grim the obstacles they have or will face.
Nadia Wamunyu
(1993, Kenya)'s blue haired figures defying age, sex and race; reflect deeply on our humanity and vulnerability. Nadia's current body of work was born out of a desire to expose her anxiety around shyness and insecurity, and paint a bolder and self-confident image of herself. The art is also a reference to the "Black Lives Matter" movement against racial injustice, in that it exaggerates the stereotypes around black women's bodies.
Agnes Waruguru's
(1994, Kenya) paintings are from her first solo show "Small Things to Consider" and were created during her artist residency on the island of Lamu. The splash paintings made from various media skillfully collapse familiar, abstract and imagined landscapes. The artist wants us to look more deeply, and thus think more deeply, about what we see. Agnes paints on light cotton which is an everyday material that transports her culture.
The exhibition is prolonged until 29 January.