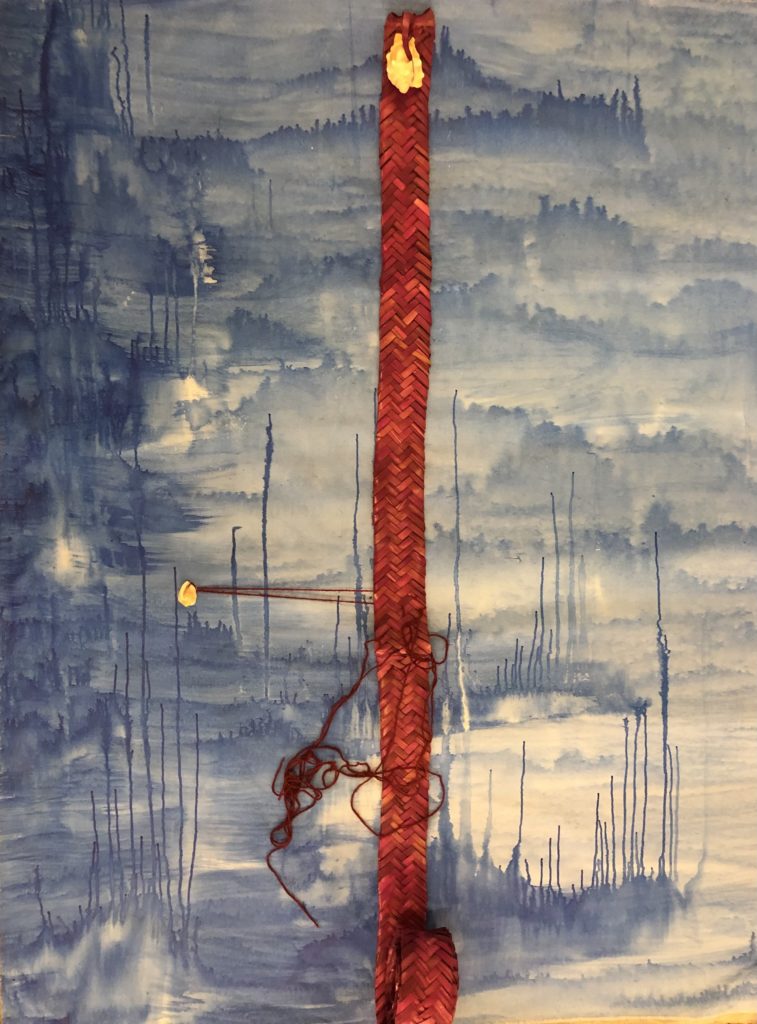 In Wheels of Time, two contemporary artists explore the cyclical nature of objects, processes, and time, as paintings by Nkuly Sibeko (b. 1991, South Africa) are displayed alongside large-scale woven installations by Theresah Ankomah (b. 1989, Ghana). Sibeko's mixed media canvases reflect social change in isiZulu culture, recognising opportunities for renewal and redemption, but also issuing warnings to the fast-paced generations who need to "slow down and catch up" or risk irreversible loss.
As a counterpart, Ankomah's immersive environments are constructed through the disassembly and reassembly of traditional baskets, their spiralling organic forms a testimony to traditional craft practices and knowledge embedded in a contemporary context. As Ankomah dismantles, dyes, reweaves and assembles the kenaf baskets of Accra's onion markets, she joins her own labour to that of the individual artisans who made the baskets, becoming part of a cycle of transmission, transformation, and renewal of a craft that is increasingly neglected in favour of factory-made plastic materials.
The artworks in this exhibition share an iterative, cyclical iconography, mapping social change and exploring material values in bright colours and multiple dimensions. Both artists dissect the impacts of technology on the environment and the individual, inviting visitors to slow down, to reconsider interactions between people, human impacts upon the environment, as well as the relationship between past and present, as they explore the exhibition.
Three site-specific works were created by Theresah Ankomah for the 2022 exhibition at Gallery Brulhart, using her favoured materials of dyed kenaf fibre baskets and dyed, braided palm leaf strips.
The first installation, Colourfall(s), revisits a 2021 work, extending the braided strips which had previously emulated water pouring downwards. In Colourfall(s) (2022), the strips now also extend upwards, travelling along the ceiling and integrating the gallery lighting before tumbling back towards the ground in a twisted column of coloured spirals. This extension forms a portal through which visitors pass, as well as increasing awareness of the fragility of the materials which sway with the movement of passing bodies.
Installation I and Installation II utilise the street-facing gallery spaces to their full potential. The brightly dyed kenaf baskets hang illuminated in the window, glowing in the grey Genevan winter. Tightly furled baskets are suspended in the entrance of the gallery, in the liminal zone between street and gallery. They hang at eye-level, a playful invitation and opportunity for passers-by to engage with the artwork up within and outside the gallery space.
Gallery launch on 2 November 2022.
In the presence of the artist Theresah Ankomah and of His Excellence Mr Emmanuel Antwi, Ghana's ambassador in Geneva.
Exhibition Catalogue
Click on any image to scroll through the catalogue.